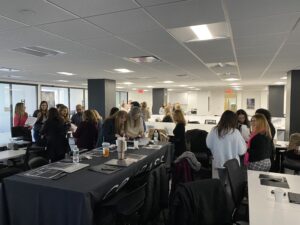 5 years ago this month I made a phone call to Robert Reffkin for some guidance and advice. I was not seeking a position at Compass when we spoke but reached out more because I had grown to respect Robert as we served together on #REBNY. Full disclosure, I was fueled by contempt prior to investigation of Compass due to my role as Sales Director and agent recruiter at another firm. I wasn't terribly happy with my work and fear pushed me around in ways that I had never imagined. Honesty and integrity had always been paramount and I found myself attempting to "poke holes" in a company about which I knew nothing.
Some of you are still out there.
I did know however that Robert was intelligent and seemed to have a genuine desire to further improve an industry that so desperately needed triage. We spoke candidly and in the course of our conversation, he suggested that I meet with another member of the leadership team. After a 3 1/2 hour meeting with Rob Lehman, I was beyond intrigued with the Compass vision and couldn't wait to see what was "under the hood" of their platform. In the most transparent fashion, I was informed that Compass was only in the "bottom of the 1st inning" in terms of tech platform development yet the technology at that moment paired with their very clear vision of the path forward brought an excitement that I hadn't experienced in a very long time.
Less than 2 weeks later I joined Compass as an Agent Coach for less money than I was making previously but with a fire inside that hadn't burned since the early 90's when my career began. For those blessed to call Compass home, I'm sure it comes as no surprise to hear that it was almost instantly that I was encouraged to #maximizeyourstrengths. As one of our 8 very impactful entrepreneurship principles (Robert unveils them at our Washington DC RETreat 2018), I had no idea how much this was going to influence me and change my entire perspective of my job and what it means to love your work.
I have had the sublime pleasure of coaching more than 4000 Compass agents in person across the United States. During the pandemic, I was part of our Learning and Development Team's initiative that moved fast and launched online training to nearly all of our 30,000 agents enabling them to work on their businesses in a very frightening time when showing real estate was made impossible by stay at home and shelter in place regulations. A real estate agent that can't show homes is a very poor real estate agent. The Compass training on the Compass platform prepared our agents for the reopening of their respective markets and saw us capture market share across the country becoming the #1 Brokerage in the United States!
Fast forward to today, I love Compass. No, I mean I really really love Compass. I have such a deep passion for the work that I get to do on a daily basis and the people whom I call colleagues and friends. Compass, it's people, the culture all make me a better human! And it only took me 49 years to "find my place in the world."
If you're relatively new to the workforce (like my magical son) or you're stuck in a rut and trudging along doing something that doesn't energize you, consider this strengths exercise:
On a clean sheet of paper, Google doc or Word doc, draw a line down the center of the page.
Left side: all the things you like about your job/life
Right side: all the things that you don't like about your job/life
Circle the things in that left column that ENERGIZE YOU!!!
These are your strengths.
Now make an effort to operate in your strengths as much as possible with the ideal goal of 70% of your day
Of course this isn't practical for everyone but if you can even find a way to increase the time each day that you operate in your strengths that will be a win!