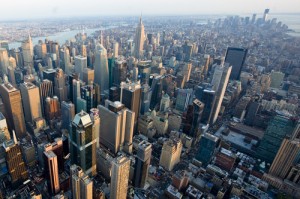 Located on the west side of Manhattan, Atelier is a 46 story residential edifice with 475 apartments. Condos have 1, 2, or 3 bedrooms and they're flawlessly designed to match the pretentious needs of their future residents. From the windows, the people will be able to admire the most dramatic views of Manhattan skyline and Hudson River.
The dynamic neighborhood is an excellent place to reside. Additional beautiful constructions that rise above the cityscape, the pulse of the city, and its numerous attractions make it an ideal to invest in a condo. Everything you could ever wish for is right at your fingertips. Galleries, stores, restaurants, and cafes are just minutes away from your luxurious studio or 2-bedroom apartment.
General Amenities of the Building
Excellent for singles and youngsters looking to buy a condo in the heart of Manhattan, Atelier features a sky-lit pool located indoors, a rooftop terrace, and a 12,000 sq. ft health club. In addition, future residents will be able to stay entertained all day long due to Atelier's additional entertainment facilities such as:
BBQ grills
Tennis court
Movie theatre
Golf driving range
Free daily breakfast
Free bicycle usage
Costas Kondylis & Partners designed Atelier and they've done a superb job. The exterior design of the edifice and its interior furnishings are absolutely divine. The lobby features a striking collection of contemporary art. Every unit was carefully constructed and designed in order to fit perfectly the needs of its future dwellers. Apartments include oversized windows for the most perfect view over the city, dryers and washers, fast internet connectivity, white oak floors, telephone, pre-wired cable, and more.
The Kitchen
Every luxury condo should have an exceptional kitchen area. Atelier features spectacular cooking spaces. Every kitchen include stainless steel gas cook, a Sub Zero refrigerator, a microwave, white quart counters, a convention oven, and an under-mount sink with a disposal system. There can be nothing more pleasant than waking up in the morning and having breakfast in your spacious kitchen area from where you can admire the perfect skyline of New York.
Extra Facilities Include:
Concierge
Fitness center/ gym
Doorman
Lounge, swimming pool
Terrace/roof deck
Atelier is an award-winning construction and an amazing condo to inhabit. The 1, 2 or 3 bedroom apartments offered have glass facades and a state-of-the-art steel body. The strategic location of the complex will allow dwellers easy access to some of Manhattan's finest entertainment opportunity. The best shopping centers, restaurants, clubs and museums, are positioned minutes away from Atelier. Some condos are equipped with a beautiful terrace where you can spend every summer morning having coffee with your loved ones. Consequently, the stainless steel appliances, kitchen island and gloss lacquer cabinetry will make you want to cook every single day.
The polished chrome fixtures in the bathrooms and the soaking marble tub are also a dream come true for residents who like to take long baths and enjoy their time in the shower. Overall, Atelier is certainly an exquisite condo complex to reside and enjoy to the fullest New York's most dynamic lifestyle.
For more information on Antlier luxury condos or other Manhattan luxury properties, CLICK HERE to speak with Doug Heddings.