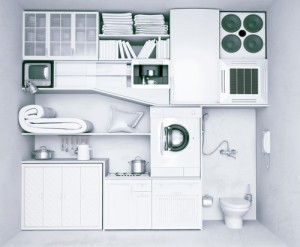 Want a home that's sleek in design with a small carbon footprint?  Then a European designed microhome may be just up your alley.  Long before being green was popular in America, Europeans embraced the idea of small space living and have lately designed a spate of projects with sleek and modern sensibilities.  Take a look below to see how small space living has become the new way to live large in Europe.
Micro Compact Homes
Richard Horden's Micro Compact Homes have become very popular in Europe these days, with an entire village of them in Munich.  The homes are lightweight compact dwellings designed to house one or two people, and are adaptable to many sites and circumstances.  With influences from aviation and automotive design, these homes are manufactured in Austria and can be delivered throughout Europe.  The design is informed by the classic scale of Japanese tea-houses, but tricked out with modern technology and design.  And it's not only the home that's tiny – the price comes in at just around $62,000.  The result is a modernistic, tiny home that has taken Europe by storm.
"Wardrobe in the Landscape"
An Italian architect named Enrico Scaramellini built himself a getaway in the Italian Alps, and managed to squeeze it between two historic farmhouses.  The final product is a 376 square foot home that is best described as a "wardrobe in the landscape".  The home features sleek, silver-gray painted panels with a natural wood interior.  Most of the interior space is taken up by a staircase and narrow hallway, but the building does widen at the back to create space for a single room.  What the architect succeeds at creating is an intimate and special place that allows the beauty of the surrounding landscape to take focus.  The micro-retreat was created for weekends away and as a place for quiet contemplation.
London's Microflat Project
Developed by Piercy & Company Architects, the Microflat Project was a series of modular, 355 square foot units that were to be joined together into an entire housing complex.  The tiny apartments were meant to house first-time home buyers, and they represented about 2/3 the space of a traditional, inner-city, one-bedroom flat.  They were meant to appeal to young professionals and those just getting a start who might not be able to afford traditional housing.  The idea was to provide an affordable solution for Londoners who wished to live int he city center and enjoy the benefits of city-living without paying city prices.
To get the project started, one unit was installed in a shop window at Selfridges' department store, and one brave couple lived in it for two full weeks in full view of the general public.  Sadly, this publicity stunt did not have the desired affect, and the project never got off the ground.