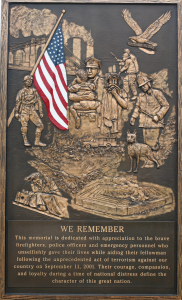 Firefighters are a rare breed. They rush in when all others flee. They sacrifice themselves in ways little and large. And since the actions of the First Responders and their brethren on September 11, 2001, awareness of what firefighters do has heightened. Over that decade, firefighters countrywide have become even more revered, perhaps nonewhere more so than in New York City.
The best place to learn about the history of firefighting in New York City – as well as to view artifacts, see collections, absorb the culture of firefighting, and learn about fire prevention and safety – is the New York City Fire Museum.
The original museum opened in 1934 as the Fire College Museum in Long Island City. A quarter of a century later, the collection moved to a working Manhattan fire station, where it stayed for just over two decades, until the Home Insurance Company, in 1981, presented its own collection of firefighter and firefighting paraphernalia and memorabilia. This paved the way for The Friends of New York City Fire Department Collection. A non-profit, the collection was meant to raise funds for the renovation of the former Engine Company No. 30, an early twentieth century firehouse on Spring Street. Six years later, the New York City Fire Museum swung open its doors.
The museum houses one of the country's most impressive – and most important – collections of fire-themed art and artifacts, some dating as far back as the 18th century. Visitors can view such pieces as helmets, lanterns, tools, leather buckets, and early motorized gadgets and devices.
Additional items on display include parade belts and hats, uniform parts and insignia, horse-drawn vehicles, and hand pumped fire engines from before the Civil War. One of the most impressive pieces of the collection is the "Farnam"-style fire engine, one of the earliest fire engines in North America. This amazing engine was built in New York in the 1790s.
Of course, the museum has extensive collections of modern tools such as the Halligan forcible entry apparatus and the Jaws of Life. A display focusing on the evolution of firefighter clothing is also presented, including bunker gear and turnout coats (displayed on mannequins).
As you would expect, the Museum contains a moving memorial to the 343 firefighters of the Fire Department of New York who gave their lives on 9/11. Included with the memorial is a display of a number of artifacts that were recovered from the World Trade Center site on that fateful day.
As visitors stroll through the museum and take everything in, firefighters are on hand to answer questions, explain firefighting maneuvers, pose for pictures, and impart their wisdom not only on how to contain a fire but also how to prevent one. There's a mock apartment with an articial smoke machine to mimic real conditions of a fire, as well as a video room for viewing and black lighted fire hazards that supplement the museum's fire education program for schoolkids from kindergarden to high school seniors.
40,000 visitors from all over the country and world find their way to the museum to take in the amazing collection and have a chat with active and retired FDNY firefighters.
For more information, including museum hours and directions, please click here.