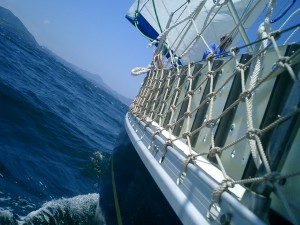 In the world of boating, yachts come in generally three categories: regular  excellent, and the one-of-a-kind yachts, such as Adastra. This custom-built masterpiece of engineering marvel actually looks like a futuristic spacecraft instead of a typical yacht. And with great looks to match its equally great features, it's not a surprise, therefore, to see that it it's in a class of its own. In fact, Boat International magazine once said that Adastra, which in Latin means "stars," is "one of the world's most amazing super yachts that could spell the future for efficient long range cruising".
Designed by John Shuttleworth Yacht Designs of Great Britain, and built by the Chinese-based shipbuilding company, McConaghy Boats in Zhuhai, the $24 million dollar "super" yacht has an integrated monitoring system, which can be controlled remotely just by a touch of an iPad. There is, however, a boundary limit, and the designers recommend a maximum of 50-meter distance between you and the boat.
This technology of using the iPad has been around for some time. Developers have used it to control toy helicopters and detect whales on East Coast shipping routes. Cruise ships and other watercraft also made use of the tablet as control panels and menus for event organizers and televisions. However, it's quite rare to find a yacht that can actually be controlled navigationally by using an iPad. This is one of the coolest features that you'll love about Adastra, but it doesn't stop there. Its other notable features include:
a lounge area, dining table, navigation station, and a saloon area on the main deck
a sofa and bar area to the port at the deck (rear of the yacht) and a bar and dining area at the starboard
glass made from Kevlar foam sandwich
interior made from oak cabinetry utilizing honeycomb panels
superstructure made from carbon fiber together with Nomex honeycomb core
The ship has a master cabin together with two guest rooms. Adastra can comfortably house nine people together with five to six crew. Its speed is around 22 knots, with an astonishing range of around 4,000 nautical miles in a single trip. This speed is actually enough for an easy trip from the UK to New York City. Every aspect of the boat is custom built, and the hatches, port lights, ladders, carbon fiber, and even hinges are all specifically made just for the boat. Add them to the streamlined shape of the yacht and you'll get one seriously powerful and efficient machine with eye-catching looks to go along with it.
There is only one Adastra in the world. It was commissioned five years ago by shipping magnate, Anto Marden and his wife, Elaine Marden, and was formally launched in China on the first week of June, 2012. Both are currently residing in Hong Kong. Among many other reasons, Anto and his wife would like to use Adastra to sail between the two islands that they own in Indonesia.