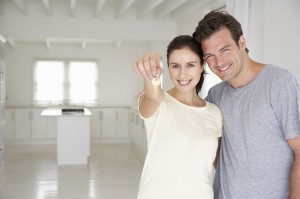 Tribeca Luxury Condos and Real Estate are some of the best that New York City has to offer.  The area takes its name from "Triangle Below Canal" and has been known as such since the 1960s.  Tribeca has become one of the most sought-after locations in Manhattan, due to its luxurious and large warehouse buildings and lofts, charming cobblestone streets, and plentiful cafes and restaurants.  In 2006, the Tribeca zip code 10013 was ranked as New York City's most expensive, and the 12th most expensive in the United States.
Tribeca Luxury Condos and Real Estate
Tribeca is bordered by Canal Street, West Street, Broadway, and Vesey Street.  Its character is defined by the former industrial buildings and warehouses that have been transformed into residential buildings and lofts.  In particular, there is a group of well-maintained brick and wood homes dating to the 19th century that line Harrison Street and Greenwich.
Tribeca began as a commercial center, especially for the textile and cotton trade.  The structures that were built to house this industry in the 1840s and 1850s were designed in an Italian style with classical lines featuring marble, cast iron, and limestone facades.  The factories and warehouses that were constructed a few decades later, in the 1880s, were built in a more Romanesque Revival style.  Since the area's transformation into a residential enclave, it has become home to many artists and families who live in converted warehouses and loft-style apartments.
Tribeca Attractions
Some of the interesting things to see and do in the neighborhood include:
Washington Market Park – features a large playground and community gardens
Hook & Ladder Company #8 – firehouse that was featured in the films Ghostbusters starring Bill Murray and Hitch starring Will Smith
Hudson River Park – 550 acres of public space along the Hudson River
Duane Park
Skyscraper Museum
Historic Woolworth Building
Tribeca Film Festival – film festival begun by Robert Deniro after 9/11 to help revitalize the area
Tribeca Open Artist Studio Tour – annual free walking tour of artist studios in Tribeca
Tribeca Shopping and Dining
Tribeca has become known for its plentitude of trendy restaurants and upscale shopping destinations, including:
Bouley – upscale American cuisine
Nobu – high-end Japanese restaurant
Square Diner – classic diner food
Dylan Prime – upscale steakhouse
Kitchenette – comfort food
Odeon – French bistro
TriBeCa Grill – classic American cuisine
Bubby's Restaurant – family friendly restaurant popular with the film crowd
Jonathan Burden – European and Chinese antiques from 17th to 20th century
Color Me Mine – paint your own ceramics at this popular shop for parties and events
Dudley's Paw – rugged products for urban pets
Edon Manor – fashion-forward accessories and shoes
Interieurs – eclectic home furnishings
Pearl Paint – art supplies and much more
What Goes Around Comes Around – vintage denim
More Information About Tribeca Luxury Condos and Real Estate
For more information on Tribeca Luxury Condos and Real Estate CLICK HERE to speak with Douglas Heddings