The million dollar question, or perhaps billion dollar question if you ask the new owners of condos at One57, is "how's the market?' First I would say it depends on who you're asking and second it totally depends on the person asking the question and their specific wants, needs, and priorities. Let's first take a look at real time listing updates courtesy of UrbanDigs.com.
Year to date Market Snapshot as of 9/25/2012
It may seem like a significant bump in inventory with 1506 properties coming to market over the past 30 days, but with 778 properties going into contract and another 403 taken off the market, it actually reveals a less significant increase of only 325 properties in September and confirms what has been the case for quite some time now: INVENTORY REMAINS SCARCE and SELLERS ARE HAPPY!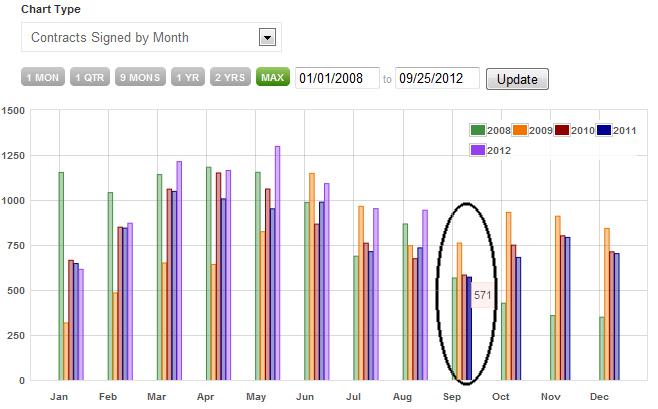 Now if we take a look at the chart above from UrbanDigs.com of monthly contract signings since 2008 and note that we are on pace to exceed 700 signed contracts for the month of September (fewer than any month this past summer), it becomes even more clear that our market is in desperate need of inventory. Historically low interest rates paired with an influx of fright capital from less robust economies around the world are fueling the demand. Are you listening owners? It is elementary my dear Watson: DEMAND exceeds SUPPLY!
If you are considering the sale of your home in the near future, now may be an excellent time for you to recoup those paper losses that have stung so badly over the past few years.
Going forward, it appears that rates will remain low for the foreseeable future and with the perceived health of our economy in relation to others in the world, continued price stability and appreciation is likely in store. It won't last forever though. At some point interest rates will have to climb and those economies of other nations (Greece, Italy, Spain, Turkey, China, etc)that are scaring investors are going to become attractive opportunities.