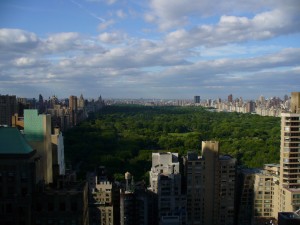 110 Central Park South Luxury Condos are highly sought after units situated in the perfect location of Midtown. These condos provide unsurpassed views of the Central Park and the extensive skyline of New York city. 110 Central Park South was originally designed and constructed in 1927 by world renowned architect James Carpenter.  In 2004 this building was transformed into 68 luxury condos and three additional penthouse floors were added. The entire interior was destroyed and all of the mechanical components and plumbing were replaced.
New floorplans were introduced in which condos ranged in size from 1,000 square feet to 4,500 square feet. 6,000 square feet of the first floor was purchased by the Gentleman's clothier Ascot Chang and used as retail space for its flagship store. The residential portion of this renovation was completed in 2006 and only 18 short months after, all units were sold. The sales for the 110 Central Park South luxury condos surpassed original forecasts by 40%
Most of the condos come equipped with designer cabinetry and appliances. They are also decked with lush eat-in kitchens that have alluring views of Central Park. The bathrooms in these luxury condos have Sycamore vanities and are trimmed in marble. This building has always been known for it's elegant attributes as it was originally the Ritz Carlton Hotel and prestigious Inter-Continental Hotel.
The 110 Central Park South building is mostly made up of expansive 2, 3 and 4 bedrooms, most with stunning Central Park views. 110 Central Park South features a state of the art security system in which elevators in the building can only be triggered by using an electronic key that are only given to residents of the building.
Building Amenities:
24-Hour Doorman
Pets Allowed
Gym
Parking
Laundry In Building
Elevator
Attended Lobby
Concierge
Health and Fitness Club
Private storage
Outdoor terrace
Breakfast bar
Private garden for residents
Conference room
Viking catering kitchen
Resident manager
Vallet

Nearby Schools:
P.S. 111 Adolph S. Ochs
Middle 2-111
Location:
Main Address: 110 West 59th Street
Zip Code: 10019
Zone: Central Park South
Neighborhood: Midtown
Borough: Manhattan
City: New York City
State: New York
Technical Data:
Building Type: High-rise building
Facade system: Applied masonry
Facade color: Light brown
Architectural style: Renaissance revival
Height: 264.00 ft
Floors: 25
Construction start: 1927
Construction end: 1928
Architect: James Edwin Ruthwin Carpenter
Developer: Anbau Enterprises
Interiors: Costas Kondylis