Central Park Luxury Condos and Penthouses are in Demand from Global Buyers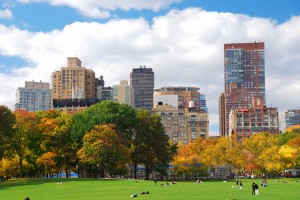 Central Park Luxury condos and penthouses surround one of the most renowned parks in the world.  Central Park provides the densely populated Manhattan borough of New York City with a vast green expanse of open space in which to relax.  It serves as a district in its own right separating the Upper West Side from the Upper East Side.  It is south of Harlem and north of Midtown.  The park covers 843 acres in a rectangle that is about 2.5 miles long and nearly half a mile wide.
Central Park acts as a natural refuge for New Yorkers from the congestion produced by skyscrapers and traffic.  By the mid 19th Century, observant New Yorkers recognized the need to establish a spot free from the noise and the chaos of the city.  The state legislature set aside a large swath of land for such a purpose.  Designs submitted by Frederick Law Olmsted and Calvert Vaux were chosen for park development.  Their plans called for naturalistic landscapes connected by separate systems for roads, walkways, and bridle paths.  The park was officially completed in 1873 with the addition of over 500,000 cubic feet of topsoil from New Jersey along with more than a million trees, shrubs, and plants.
The park fell into a period of decline in the early 20th Century due to a lack of maintenance.  Renewal efforts in the 1930's replaced dead trees and worn out lawns.  A second period of decline occurred in the 1960's and 70's when the park became rundown and crime ridden.  In 1980, the Central Park Conservancy was established to address these issues.
A Legion of Landmarks Exist Here
Central Park contains a wealth of landmarks including those listed below.
Bethesda Terrace and Fountain
Billy Johnson Playground
Central Park Zoo
Friedman Carousel
Grand Army Plaza
Heckscher Playground
The Pond
Rumsey Playfield
Sheep Meadow
Strawberry Fields
Ancient Playground
Belvedere Castle
Conservatory Pond
Loeb Boathouse
Metropolitan Museum of Art
Safari Playground
Wild West Playground
Charles Dana Discovery Center
Conservatory Garden
Harlem Meer
Tennis Center
Lasker Pool
Victorian Gardens Amusement Park
Delacorte Theater
Central Park Luxury Condos and Penthouses are High Style Again
Central Park luxury condos and penthouses are sought after addresses.  The park is now relatively crime free and is regarded as a jewel of the city.  Living close by it is the dream of many New Yorkers.  The high rise buildings that surround it contain many of the city's most highly sought after housing units.  There is some rivalry between the Eastside and the Westside as to which is the more desirable locale.  Both are considered to be swank neighborhoods, and each has a collection of high end stores and quality restaurants that allow them to compete for bragging rights.
For more information about Central Park Luxury condos and penthouses CLICK HERE to speak with Doug Heddings