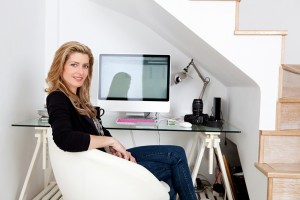 If you're like most people, you find it essential to have a designated office space in your home.  Whether you are running your own business, or simply managing your home, having a centralized place to keep paperwork and to work at the computer helps to organize your life and run it more efficiently.  But what if you don't have a spare room in which to create a home office?    Not to worry, with just a little thought and ingenuity, you can turn any corner of your home into a productive and fun office nook.  Here are some tips to get you started.
Find Your Nook
You may not have an extra room to create a home office, but how about an empty closet?  You can install some shelves, fit in a writing surface and use a small stool or chair underneath.
If you don't have the closet space, do you have unused space under your stairs where you can fit a small desk?  How about a corner that could be put to better use than simply being a place to put a plant?  You can even create some privacy for your corner space by using a freestanding screen.
Look around your home and use your imagination.  Even the smallest spaces can be re-purposed to create a dedicated office nook.
Delineate Spaces
Make your office nook optimally functional by delineating space for your computer, files, books, office supplies, and any other materials you need to keep in your space.  Maximize your work space by making all of these areas within arm's reach.  Be sure you have an outlet nearby to plug in your computer and a lamp, and don't forget to add a small wastebasket.
Keep It Neat
A challenge you'll face with a small-space office is keeping it tidy.  Help yourself corral unsightly wires from all your gadgets by having a centralized charging station that allows you to tuck wires in.  Use wire ties to help keep cords together and keep them untangled.  Try to keep the surface of your desk neat and free of clutter.
Keep Supplies Stocked
An office can't functional properly without the appropriate supplies, so be sure to keep them in stock and handy.  This includes pens and pencils, scissors, a stapler, paperclips, Post-It notes and a hole punch.  Keep these items in a desk drawer, or stash them in a decorative box or container that you keep on the shelf.
Personalize It
Your office nook is just like any other area of your home, so don't be afraid to add personal decorative touches.  Add some fresh flowers, candles or framed pictures of loved ones around your desk.  Consider installing a bulletin board to keep family photos and souvenirs from trips.  Let your personal style infuse your space in choice of color and texture.  If you take time to personalize your space, you'll look forward to spending more time there.
By following the suggestions outlined above, even the tiniest of homes can feature a workable and attractive office nook.  With just a little time and imagination, you'll soon have a home office space you'll love to work in!