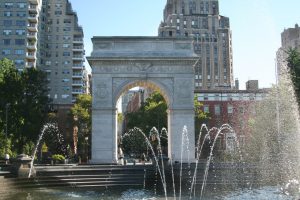 Once upon a time, I suggested that a client strongly consider a purchase at 15 Central Park West. That client barked at me that she "would NEVER pay $2,000/sf for an apartment in Manhattan! That is just absurd!" Since then, that unit has traded multiple times for as much as $8,000/sf.
In 2003, when my wife and I purchased our current home, the New York Post ran a two page spread complete with a full page photo of me in a "Superman" stance titled, "Buyer Shootout." The piece covered the bidding war climate by which we were directly impacted and the buyer's remorse that hit even people like me in the real estate industry. Our home has appreciated by nearly 300%.
There is no denying that the appreciation seen over the 25 years that I have been selling real estate is more than remarkable. Of course I could share anecdotes of those who were forced to sell in a down market for a loss, but there have been some prevailing themes in the past quarter century:
1. Location, location, location with the greatest opportunity in areas that are explored by pioneers like artists and other creative types (Soho, West Village, the Lower East Side.)
2. Don't dismiss a big name architect or developer. (Robert A.M. Stern has the golden touch. Pair his masterful design with a location like 15 Central Park West or 70 Vestry and you can't go wrong).
3. Look at opportunities for infrastructure growth. (Riverside Boulevard on the Upper West Side will see more shopping, movie theaters and even schools in the coming months.)
This brings me to my recent visit to Hudson Yards. WOW! Mark my words that this new enclave is going to be a destination community sought by people both in and out of Manhattan. Many of the residences will be enjoyed by the likes of employees at KKR, Blackstone and Millbank Tweed. Others will be occupied part-time by both international and domestic owners who simply want a Manhattan escape that will provide some of the best restaurants, shopping and culture in the world. The most impressive new development project in the United States, Related's Hudson Yards will feature indoor and outdoor performances and concerts in the Shed, beautiful parks and open spaces, navigable artwork in the form of Thomas Heatherwick's Vessel, and a seamless connection to the Highline which carries you past Zaha Hadid's New York signature masterpiece and through West Chelsea to the Meatpacking District.
This may seem like a bold statement and only time will tell, but the residences at Hudson Yards are going to see long time appreciation in line with the 300-500% increases that I have witnessed in my 25 years in this business. Mark my words – many will look back and wish that they had the vision and courage to take the leap now. Closings are only 18 months away.