My wife makes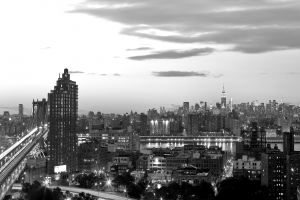 me! That is all. No, seriously, my wife was born and raised on the Upper West Side of Manhattan and made it clear to me that she wouldn't likely ever have the desire to leave Manhattan. I migrated to the Big Apple in 1989 from the suburbs of Baltimore. Prior to my move, I had never even visited "the city" as the natives refer to her and I met my wife
in 1992 so the rest is history. Many of my friends and family are baffled by our residence in New York and frequently ask questions like, "how is it raising children in the city?," "isn't it noisy/dirty/scary?," "how do you afford it?"
The parents of the girls on my daughter's soccer team will tell you that I frequently dream of living in a big house in Montclair, New Jersey with some grass and maybe even a pool. But the reality is that every time I begin to get swept away in the day dream, I realize how incredible the last 28 years have been for me as a resident of "the city."
• The food and restaurant scenes are unparalleled and on a practical level, there just aren't too many places where the daughter can have Chinese, the wife sushi, the son Mexican and I Indian all at the same dinner table. And given that my wife cooks about 4 days a week, she is able to shop on her way home from work for the freshest ingredients straight from some of the best markets in the world.  Most of those markets deliver too!
• According to a
quick Google search, there are upwards of 100 museums in New York City. My daughter and her grandfather are in the process of visiting them one at a time whenever he's in town from Santa Cruz.
• Broadway and Off-Broadway shows are just a short 30-40 blocks from our home. My wife and daughter have seen Wicked twice and we were even blessed this year to score 2 face value tickets to Hamilton so that our son and daughter could attend together. Kate and I also scored 2 face value tickets separately and wow, what a show!
• My almost 16-year-old son has been traveling by subway to and from school since he was 9 (full disclosure, we followed him for the first couple of weeks until he proved he was ready.)
• Our kids have MANY friends from diverse socioeconomic backgrounds and cultures and they don't feel the need to discuss those backgrounds. They are just simply friends.
• My 13-year-old daughter does not go to the same school as her older brother because they are very different people. Both schools are well suited for each of them. That choice is invaluable!
• The city truly NEVER sleeps!
If you want a hamburger at 5AM, the diner or corner deli will happily oblige.
• The infrastructure is incredible. This city is never paralyzed by weather and rarely are people rushing out to buy bread and milk before a blizzard. You can likely have it delivered in the middle of a blizzard.
• Yes, it is expensive but you can also earn a very handsome living here.
Basically, the availability and convenience of just about everything makes me appreciate the life that I have here with my family and serves to wake me from the day dreams of suburban bliss that so often permeate my mind. The grass is not always greener.