I have been writing for my True Gotham blog since April 2006. The very first broker blogger in New York City, I have spent the past 10+ years making every effort to be of service to the consumer and the industry in hopes of raising the bar for everyone. This blog post from May 13, 2008: Marketing Your Home in a Softening Market is a perfect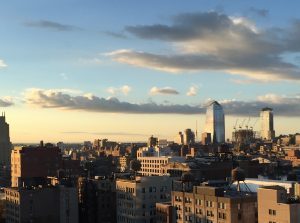 example of the cyclical real estate market and how we must shift strategies as market conditions change:
Other than the media coverage of both the ultra-luxury slowdown and the hyperactivity in the sub $2M market, there is no solid indication yet from actual numbers as to which direction the Manhattan real estate market is heading. That said, top producing real estate agents seem to be quite busy as marketing and selling a home in today's market requires experience that transcends simply picking any price, sending out some postcards and waiting for multiple bids.
Those who regularly read True Gotham know my feelings about accurate pricing no matter how the market is behaving, but when buyers have more inventory to choose from, accurate pricing becomes even more of a priority.
In addition to proper pricing, here are some important factors to consider when selling in today's real estate market:
Hire a "genuine" real estate professional with experience and knowledge: By genuine I don't mean properly licensed (that's obvious). I am talking about someone who doesn't over promise and who can be trusted. Don't hire a "buy now, real estate prices always go up" kind of agent. Remember that the prospective purchaser is forming an opinion of your property through the representation by your agent.  Don't let an agent make a bad first impression.  It's an uphill battle if a buyer doesn't believe what your agent is "selling."
Seek both quality and quantity through transparency: Make sure that you are pleased with how your property is being represented to both the public and the brokerage community. It should be displayed as beautifully as possible without misleading a buyer. This will insure that buyers who take the time to visit your home will be pleased and not negatively surprised (e.g., don't be afraid to highlight how quiet the place is despite the lack view…a prospective purchaser who expects a view and discovers none is NOT going to buy your home).
Change your marketing strategy: What works during a housing boom doesn't always work in a more "normal" or declining market. Don't be afraid to suggest "out of the box" marketing ideas to your agent. Discuss the marketing strategy regularly and determine whether changes need to be implemented. We at CORE believe we are a marketing company that specializes in real estate. That translates to creativity and success for our customers.
Know your competition: Make sure your agent is informed of comparable properties that are currently on the market and that she/he can support the reasons for your price.
Prepare your home for the market: It doesn't hurt to visit comparable properties at open houses to see how your property is perceived in the marketplace. Touch up paint and declutter at minimum. At CORE, we offer our agents staging services via our CORE Styling program which insures that your property is presented in the optimal light when coming to market.
Be patient: Over the past decade, properties have sold moments after hitting the market despite inexperienced agents and/or ridiculous pricing. The buying frenzy, although still occurring in some segments of the market, is less common and patience is a necessity in today's marketplace. Choosing the right agent who stands by you throughout the entire process is critical.
Don't be stubborn (too patient): Trust that your real estate professional has a firm grasp of market conditions and listens carefully when they suggest marketing changes or price adjustments. Don't get caught chasing the market down by resisting the lowering of your price. The best strategy to ensure an efficient sale is to adjust your price ahead of the competition.
Those are just some things to consider if you're a seller in today's real estate market. All of this said, there is no more important factor than trusting the real estate professional that you hire. If you don't have faith that they know what they are doing, you may just get bitten in the asking price.
It is remarkable to me how on point this advice from 8 years ago is in our current real estate market. Isn't it interesting how the more things change, the more they stay the same?