6 Real Estate Programs That Can't Be Missed
Doug Heddings, a successful real estate agent in New York, has sold more than $200 million in real estate throughout the city. His experience has afforded him a recurring appearance on Selling New York, the television program that chronicles events in the area's competitive real estate market. Selling New York is just one of the many real estate based shows that have come to television in the past few years.
 Even during this time of economic difficulty and a dip in the housing market, reality TV shows about real estate are catching the public's attention. One of the reasons is that viewers are given information on how to buy and sell houses while still making a profit. As Doug Heddings noted in one of his appearances on Selling New York, there is a panic among homeowners as they see home values dropping. People are worried they won't be able to make a profit when moving, and they hope to learn some tricks and tips of the trade.
 Some of the more popular of these real estate themed reality shows include:
Real Estate Intervention with Mike Aubrey and Sabrina Soto.
Mike Aubrey is a real estate expert who works with his partner, staging expert Sabrina Soto, to help families get the best value for their homes. Mike helps the sellers accurately price their house by taking them on tours of similar homes in their area. Together they compare features of their home with parallel features in other homes, such as garage size, lawn size, and quality of materials in the home. After comparing prices and the reasons for pricing differences, the couple or family can decide on the most accurate value for their home.
Sabrina's job is to show sellers how to make their home ready to wow potential buyers. By giving her clients some advice on staging, Sabrina teaches them how to properly set up their home for a showing. Some of her tips include decluttering, painting, or even tackling big jobs like counter-top replacements and renovations. This will ensure that potential buyers are impressed with the home from the very beginning, making them more willing to agree to a higher price.
Million Dollar Listing with Josh Altman, Josh Flagg, and Madison Hildebrand.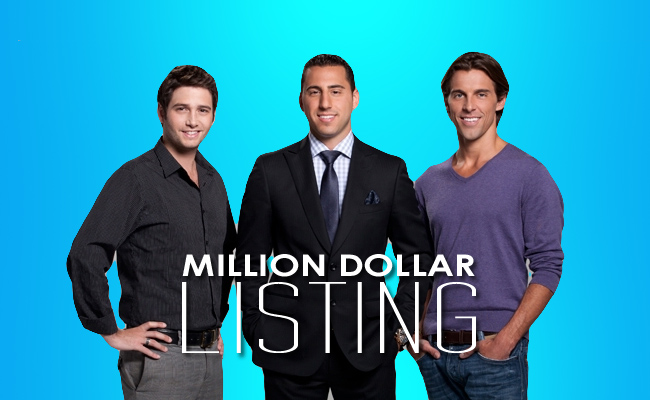 This is a show for elite homeowners and the ones who dream of an upper crust lifestyle. The show follows the three hosts, tagged as "three of Los Angeles' hottest, young and aggressive real estate magnates in the making," as they try to sell homes and properties worth millions of dollars. These are high stakes deals being made, and in the current economic climate, these hosts are competing in a very small and competitive niche.
Dealing in multi-million dollar real estate in any situation is a somewhat risky business, but it has the potential for a huge payoff. As Doug Heddings noted, the more your home is worth the farther there is for you to fall.
Flip Men with Mike Baird and Doug Clark.
Based in Utah, where both hosts have spent a large portion of their lives, Flip Men features Mike and Doug buying foreclosed houses, remodeling them, and selling them for a profit. Both men have had successful careers in fields other than real estate, but became interested in the business via different pathways and now work together to flip houses.
Property Wars with Doug Hopkins, Scott Menaged, Lou Amoroso, Ed Rosenburg, Steve Simons, and John Ray.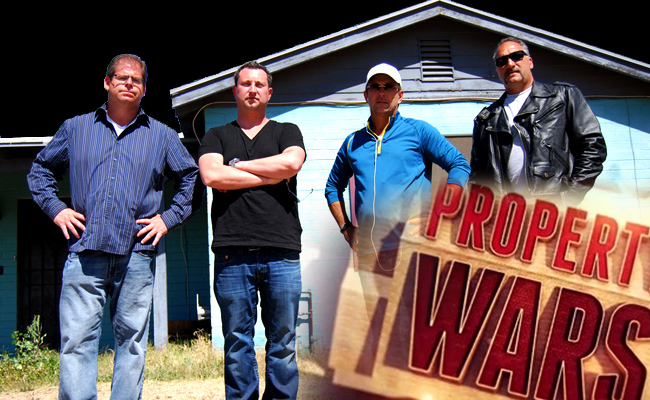 Featuring a wide variety of cast members all gathered together under the hot sun of Phoenix, Arizona, Property Wars is a battle of instinct, quick wits, and ambition. Each of the men on the show is looking to not only buy up the best properties in the Phoenix area, but do it quickly and efficiently. Bidding takes place within minutes, and decisions have to be made as quickly as possible in often stressful situations.
Two of the agents, Doug Hopkins and John Ray, have been active real estate buyers in the Phoenix area for a long time. The other buyers featured are newcomers to Phoenix. Scott and Lou are from New York, where real estate is a different ball game altogether. Ed and Steve are business partners from L.A. with a reputation for being more analytical than their competitors and a penchant for taking well calculated risks.
 As opposed to some real estate agents and homeowners who are biding their time in a struggling market, the agents of Property Wars are aggressively buying up new property. Doug Heddings' suggestion to not panic and wait for the housing market to go back up before buying or selling homes is advice these guys are clearly not heeding.
This show is favored by many who seek to learn about what prices houses are fetching across the country based on location, size, age, and condition. Each episode follows a homebuyer through multiple home tours and eavesdrops on their discussions about price and which house they intend to buy. It's a sneak peek into the home buying world for everyone from the nervous first-timer to a buyer out of the market for many years.
Selling New York with brokers from Gumley Haft Kleier, CORE, and Warburg. 
Unlike some other shows, Selling New York does not have a set pair or group of hosts. Instead, the show follows different real estate brokers from three different New York based firms as they navigate the real estate world in one of the most competitive markets in the country.
New York is a city with more than 8 million people, and the homes there can be some of the priciest in the country. For example, the average listed price for a home in Manhattan is over 1 million dollars. Once prices reach such a high level, brokers begin to deal with some of the wealthiest of the social and political players in the Big Apple. This is where Doug Heddings shares his wisdom and works to help potential buyers and sellers in navigating the real estate market.